Paradise Trails Development Site
For Sale $12M 104 Acres ($4M for 66 Acres)
This Squamish property is a 104 acre parcel of riverfront land zoned for 82 residential lots and an equestrian center, representing Phase I of the two-phase Paradise Trails development project. Located in Paradise Valley, the land consists of fairly flat, treed lush land that slopes gently towards the Cheakmus River. The site has good natural drainage, hydro power is on-site and there is plenty of water for drilled wells. Phase II is 66 acres that is yet to be zoned and can be included in the sale for an additional price of $4m; it is situated on a steep slope that banks onto the Sea-to-Sky highway, it overlooks the 104 acres parcel for sale and offers breathtaking mountain and river views. The entire parcel is a 55 minute drive from downtown Vancouver and a 25 minute drive to the world class Whistler Ski Resort. – Call Listing agent for more info (604-671-7000) or go to listing agents web site (www.6717000.com/squamish) for feature sheet.
Offered for sale is a 100+ acre parcel of residential-zoned riverfront land located in the Paradise Valley of Squamish, which has a higher than average annual household income and one of the highest demands for housing in BC. The parcel for sale represents Phase I of the two-phase 166ac Paradise Trails equestrian-themed development site. It is a 55 minute drive from downtown Vancouver and a 25 minute drive to the world class Whistler Ski Resort.
The entire parcel is a 55 minute drive from downtown Vancouver and a 25 minute drive to the world class Whistler Ski Resort.

Phase I, the 100+ ac lower lands offered, consists of fairly flat, treed lush land that slopes gently towards the Cheakmus River and is zoned for 82 Single-Family Residential Units, a Boutique Lodge and an Equestrian Centre which will be its own strata lot.
The 82 residential units are divided into:
43 half-acre lots
24 three quarter-acre lots
8 single-acre lots
7 tow-acre lots
Servicing plan is as follows:
Hydro power is on site
Water will come from drilled wells.
Waste water will be treated with a package-treatment plant
Feature ponds and good natural drainage of the site will act as a storm water retention
Phase II is yet to be zoned and may also be included in the sale for an additional price. It is approximately 66ac and is situated on a steep slope banking onto the Sea-to-Sky highway. It overlooks Phase I to the west and offers breathtaking mountain and river views.
Squamish is at the mouth of Howe Sound, just minutes from wilderness and is branded as the "Outdoor Recreation Capital of Canada". Vacancy rates in Squamish are close to zero and from 2014 to 2015, the home price index for detached properties in Squamish rose by 17%.

Squamish is one of the fastest-growing regions in BC, with population growth of 15% over the past five years. From 2006 to 2011 it grew by 14.6% while the rate for BC was 7% and the national average was 5.9%. The average age is 37 and 63% of the population is under 40 years old. According to the 2011 census, Squamish has an $80,000 average annual household income, which is 4% higher than that of BC.
Driving Instructions:
Heading NORTH on #99
Drive 10km past downtown Squamish to the Alice Lake turnoff.
TURN LEFT (west) off highway 99 across from the Alice Lake turnoff on to Squamish Valley Road.
KEEP RIGHT over CN Rail tracks past Cheekye, over the one lane Bailey bridge and take the right fork onto the Paradise Valley Road.
The Development Site is approx. 6 KM further north. Once you get to the gravel road, you must drive past "C-Dar Lodge" sign. The property entrance is located at the yellow left turn arrow sign down the road.
$3.5B ski resort 15 Kilometres north of Squamish gets environmental pass for development by the Aquilini Investment Group and Northland Properties.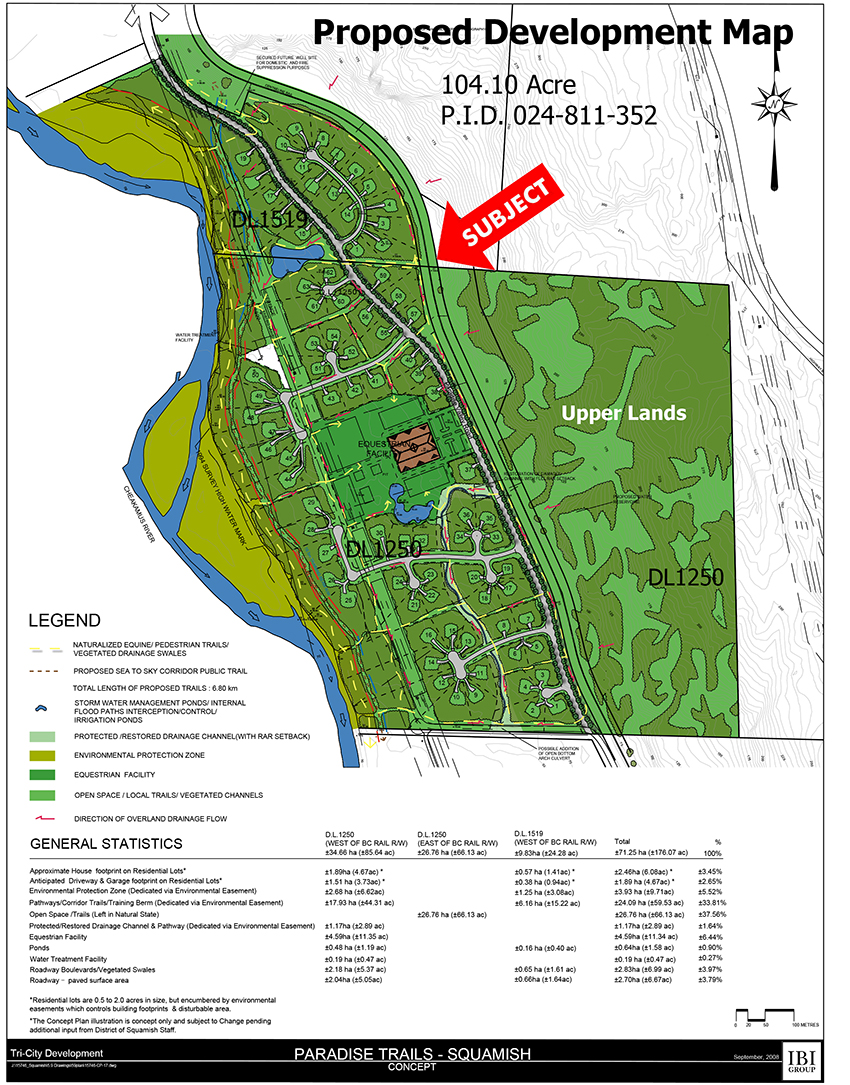 >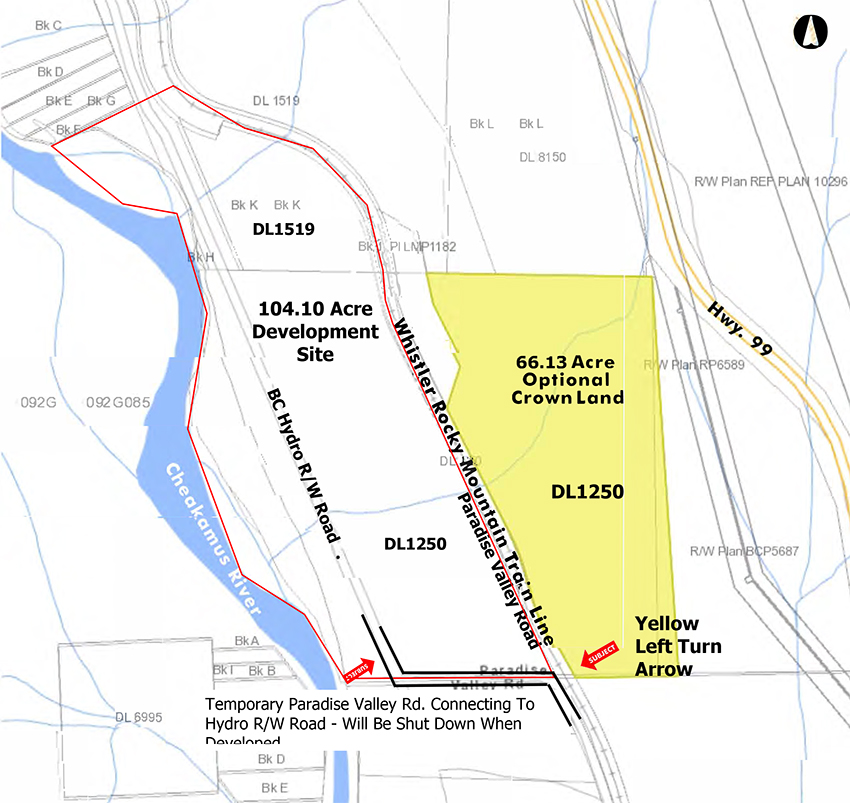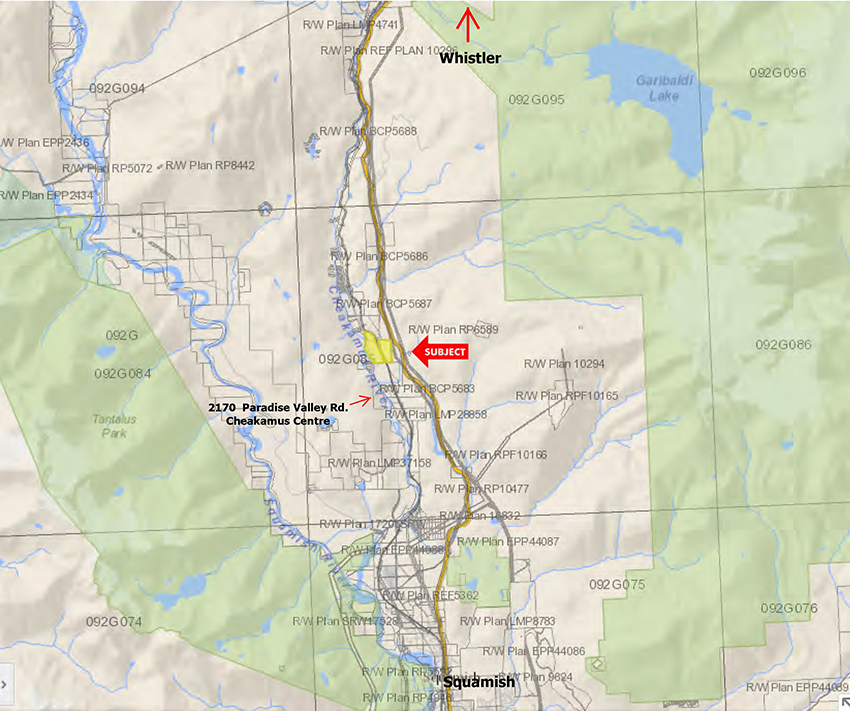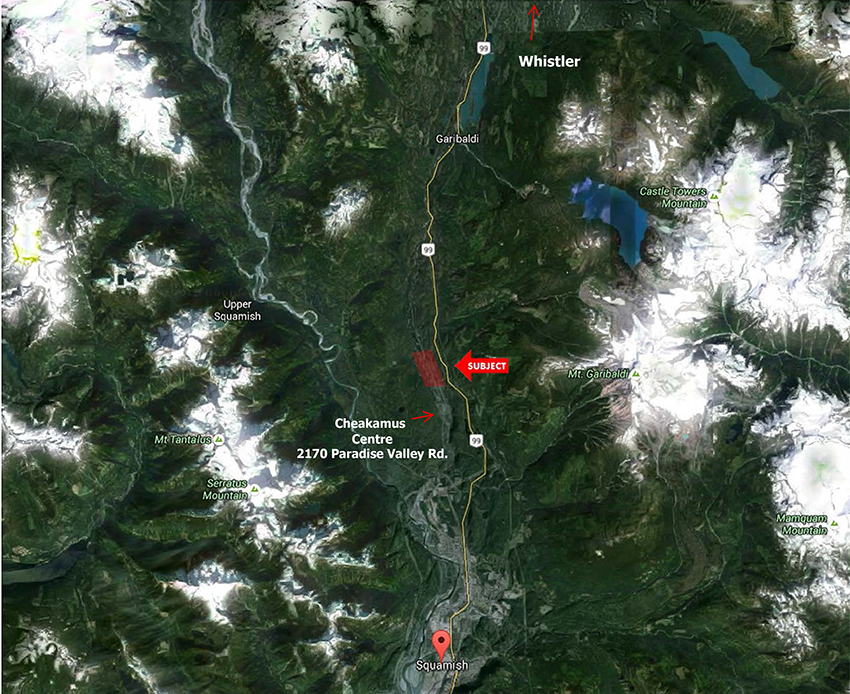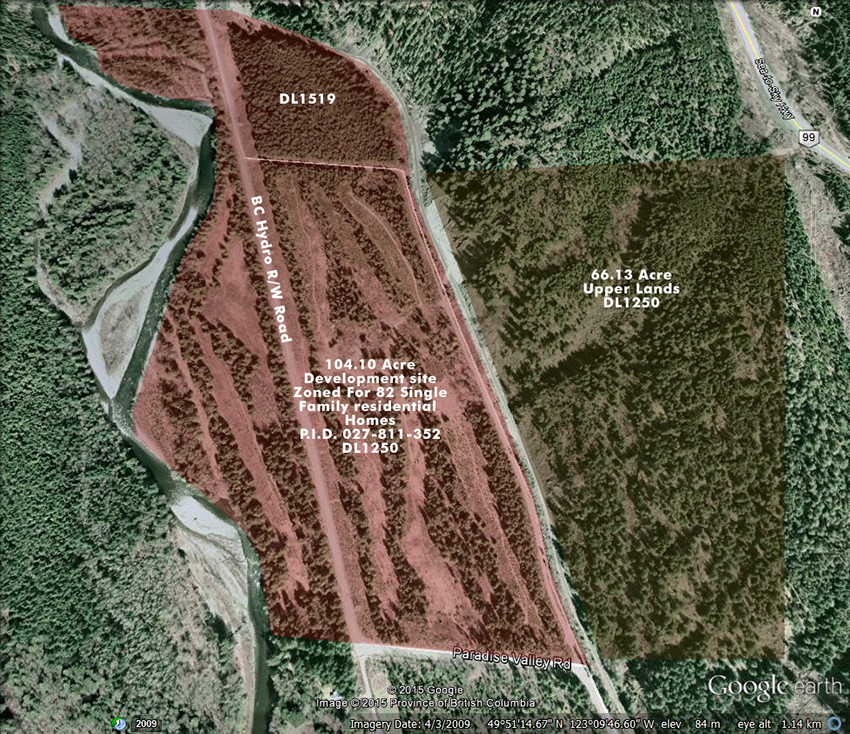 Paradise  Trails  a Sustainable Equestrian  Community (Proposed)

Tri City Properties at Squamish is proposing a unique equestrian community in Paradise Valley called Paradise Trails. This property will become a model for outdoor lifestyle-oriented communities. It will be a place where people will want to live while enjoying or pursuing a rural equestrian lifestyle.

Country homes will be connected to bridle and hiking trails that will lead to the equestrian centre and BC's stunning outback country. Homeowners will be offered the convenience of keeping their horses at the Paradise Trails stables and having full use of the amenities and programming at the Paradise Trails Equestrian Centre. Residents and the general public will enjoy riding and hiking the historic Cheakamus River Trail. The stunning waterfront views, paired with the forested landscape, provide an unforgettable and unique outdoor recreational experience.

The community will be built around the Paradise Trails Equestrian Centre.   This  facility  will  be  professionally  managed  as  a premier equestrian centre and will offer quality programming such as horse training, riding classes, clinics, therapeutic riding, competitions and other special events. Classes and events will be open to residents and other equestrian enthusiasts. The facility will also be available for community events, meetings and celebrations. The equestrian centre will include indoor/outdoor areas and stables, a tack shop, a farrier shop, a veterinary clinic, event rooms and a place to wash and groom horses. It will also include a manager's apartment and a café/bistro.

A large portion of the Paradise Trails community grounds  will  be open green space and a wildlife  corridor.  The  equestrian  facility  and housing will occupy a small area to minimize impacts on the natural landscape. Bridle and hiking trails will wind throughout the community, leading to the river and mountains. The Cheakamus River Trail is an ancient Native path, following the route old prospectors used when travelling to the gold fields. The Cheakamus River Trail also links to several municipal and provincial backcountry trails.
Paradise Trails (Proposed) - Sustainable Practices and Green Design Promotes a Sense of Place

Market demand for more eco-friendly developments and new sustainability practices are challenging developers to come up with new building solutions. Research reveals that thoughtfully planned equestrian communities offer viable solutions to potential issues between conservationist and traditional development. Equine based communities provide a lifestyle alternative, without the need to sacrifice good stewardship of the land and its resources.

The proposed community of Paradise Trails will be informed by the natural landscape of Paradise Valley. Paradise Trails is proposed to maximize the use of the natural environment, offering access to land that otherwise might

not be available for public enjoyment. The development will provide public access along the Cheakamus River Trail and through seven kilometres of newly dedicated parks and trails. It will also contribute to the restoration and preservation of area.

A low density design, which has been uniquely tailored for the area, will restore a currently degraded landscape that has been logged twice and partially cleared for a golf course. The housing footprints will be approximately six per cent of the site. Paradise Trails is designed to have more green space and less paved areas than any other type of residential community in the area. Through sustainable design practices, the community lands will require minimal resources to maintain.
For Sale $12,000,000
Development Site Proforma
Revenue Lot Sales
Lot Size
Quanity
Price/Lot
Total
1/2 acre
43
$450,000
$19,350,000
3/4 acre
24
$506,970
$12,167,280
1 acre
8
$563,953
$ 4,511,627
2 acre
7
$996,900
$ 6,978,303
Horse Stall
20
$ 25,000
$ 500,000
Total Revenue
$43,507,211
Expense Land
Land Purchase
$12,000,000
Property Tax
$135,000
Total Land
$12,135,000
Servicing
Design
$12,000,000
DCCs
$842,386
Amenities
$205,000
Berms
$2,751,555
Road Works
$1,996,700
Water Systems
$2,588,480
Sanitary Sewer
$2,705,000
Storm Sewer
$153,800
Landscaping
$775,000
Utilities
$984,000
Riding Centre
$1,500,000
Contingency
$1,488,991
Total Servicing
$18,338,758
Sales Costs
Marketing
$512,000
RE Commissions
$913,180
Total Sales Costs
$1,425,180
Total Expenses
$31,898,938
Profit
$11,608,272
Paradise Trails Proforma- PDF
Paradise Trails Lot Layout - PDF
ParkHouse developer planning another building for Squamish, after selling out condo development in a record 90 minutes - News Article
Les Twarog * RE/MAX Crest Realty (Westside) * 1428 W 7th Avenue, Vancouver, V6H 1C1, BC, CANADA
604-602-1111 (Off) • 866-617-9249 (Fax) *

[email protected]

---