298 E. 11th Ave.
,
Vancouver
, BC,
V5T 0A2
Levels:

8

Suites:

81

Status:

Completed Oct 31st 2008

Built:

2008


Map:

Concierge:

N/A

On Site Manager:

N/A

Type:

Freehold


Bldg #:

189
Sophia News Articles
PRINT VIEW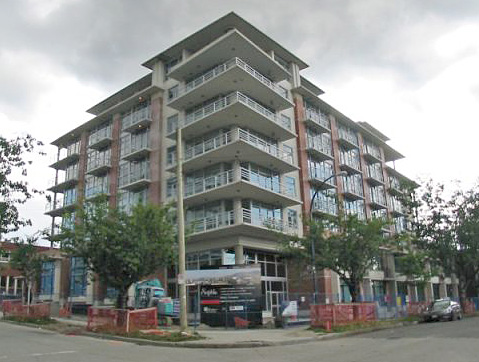 BUILDING WEBSITE Sophia at 298 E 11th Avenue, Vancouver, BC, V5T 0A2, Mount Pleasant Neighborhood,81 suites, 8 levels, estimated completion Summer 2008. This website contains: current building MLS listings & MLS sale info, building floor plans & strata plans, pictures of lobby & common area, developer, strata & concierge contact info, interactive 3D & Google location Maps link
www.6717000.com/maps
with downtown intersection virtual tours, downtown listing assignment lists of buildings under construction & aerial/satellite pictures of this building. For more info, click the side bar of this page or use the search feature in the top right hand corner of any page. Building map location; Building #189-Map 5, Mount Pleasant Area.
Strata Company:

Rancho Management (604-684-4508)

Concierge:

N/A

On Site Manager:

N/A

Developer:

The Eden Group of Companies 604-244-1986

Architect:

N/A
Google Map
Bing Map
Google Street View
Google Street View
View Larger Map
Sophia, 298 E 11th ,81 suites, 8 levels, Suite sizes 660-1,300 sf, Architect; Linda Baker Architects, Developer/Receiver; The Bowra Group; 604-608-6243 C/O Doug Chivers dchivers@bowragroup.com Marketed by; The Agency Real Estate Marketing (TRG Realty), Display Center located at 298 E 11th, Vancouver, V5T 0A2, Website; www.sophialiving.com , Phone # 604-453-6600, graham@sophialiving.com or darryl@sophialiving.com , Warranty; 2/5/10 National Home Warranty, Estimated Occupancy; October 2008
---
The developer went bankrupt in January 2008, the construction is continuing under a receiver. For further information please contact; Doug Chivers, Bowra Group - Receiver for Sophia ; 1930 - 1095 West Pender St. Vancouver, BC V6E 2M6 (604) 608-6243 (off) (604) 689-8584 (fax) dchivers@bowragroup.com Website: www.bowragroup.com Residence size: 1 bedroom, from 557 sq.ft.; 2 bedrooms, from 910 sq.ft.; townhouses, from 1,180 sq.ft. New appointed marketing company for the project is "The Agency" TRG Realty - Care of Mike Sikic 604-453-6666. Call for more details.
On February 18, 2008, The Bowra Group Inc. was appointed Receiver of the undertakings and properties of 0722051 Ltd (also known as The Sophia Project) under a Court Order from the Supreme Court of BC. A copy of the Court Order is attached below.
Sophia Court Order (588 KB)
The Sophia Project is an 81 unit condominium development located in Vancouver.
The Receiver is required to perform a viability assessment on the Project, which is to be provided to Court by March 10, 2008. This viability assessment will include:
a) The status of the construction;
b) The cost to complete the construction of the building;
c) A determination of the current market value of each of the 81 units;
d) A risk assessment for stakeholders of the various alternatives including:
The completion of the construction of the building and the closing of pre-sale contracts for the purchase of units in the building;
The completion of the construction of the building and the sale of units in the building at current market prices;
The sale of the building on an "as is, where is" basis to a third party; and,
Recommendations to the Court with respect to the maximization of returns to stakeholders.
For further information please contact Doug Chivers at (604) 608-6243 or email dchivers@bowragroup.com
Report to Court
As required by the Court Order dated February 18, 2008, the Receiver has submitted its Report to Court. A copy of this Report is attached below:
Report to Court – Dated March 11, 2008 (2.49 MB)
---
IMPRESSIVE LIVING FEATURES
9 foot ceilings (townhomes, studio lofts with
Choice of 2 professionally designed color schemes by Ela Rezmer Design

Open, functional floor plans including:
one bedroom
one bedroom studio lofts
one bedroom and dens
2 bedroom with two bathrooms
2 bedroom, 2 level townhomes

Energy efficient fireplaces with elegant glass tile surround
In-suite storage areas
•  High end exotic hardwood flooring
Designer carpets in bedrooms
Venetian blinds on all windows
Spacious lower floor patios and upper floor balconies
Two elevators
"Technology Ready" for advanced internet and telecommunications plus digital cable TV

SAFE & SECURE
State of the art fire protection – monitored sprinkler system and in-suite smoke detectors
Bright secured underground parking
Individual storage lockers in the parking level
Bicycle storage lockers
Security enterphone with video camera
surveillance

DREAM KITCHENS
A gourmet's delight! Open style kitchen with
peninsula or island
Gourmet Architect series GE Stainless Steel Appliance package including:

GE Stainless Steel Fridge
30-inch microwave hood combination
Self-cleaning gas range
Whisper quiet multi-cycle dishwasher
½ horsepower in-sink garburator

Glass tile backsplash
Custom designed, European style, flat panel cabinets
Imported polished granite countertops
Stainless steel sinks with polished chrome finish faucet and vegetable spray
Overhead designer halogen track lighting

LUXURIOUS BATHROOMS
Custom designed flat panel cabinets
Imported granite polished countertops
Deep soaker tubs with ceramic tile surrounds
Distinctive porcelain tile flooring
Polished chrome accessories
Expansive vanity mirror

LOCATION, LOCATION, LOCATION!!
Sophia is close to:

Cafes (Soma Café, Lugz, Cuppa Joes, Starbucks)
   
Boutiques
Banks
Restaurants (Aurora Bistro, Monsoon, Slickity Jim's Chat 'n' Shew, The Whip Gallery)
Grocery Stores (large & small)
Parks
Public transit
 


 

 

 

 

 

 

 

 

Sophia Under Construction
picture taken Augus 2008
 

Sophia Under Construction
picture taken Augus 2008
 

Sophia Under Construction
picture taken Augus 2008
 

Sophia Under Construction
picture taken Augus 2008
 

Sophia Under Construction
picture taken Augus 2008
 

Sophia Under Construction
picture taken Augus 2008
 
City and mountain views will not be in short supply at the Sophia new-home project, as demonstrated by the outlook from the show home's second-floor master bedroom. Photograph by : Ward Perrin, Vancouver Sun
 
The Sophia show home. a two-bedroom townhome with street access from 11th Avenue, has an open-concept living/dining area. All Sophia homes will feature electric fireplaces, venetian blinds, gas ranges and balconies. Photograph by : Ward Perrin, Vancouver Sun
 
The second-floor hallway of the Sophia show home -- the townhome has two bedrooms and a den -- leads to the master bedroom, which offers views of the North Shore mountains. A balcony off the bedroom will afford additional opportunity to enjoy those views. Photograph by : Ward Perrin, Vancouver Sun
 
Patio off master bedroom in the display suite of the Sophia project on East 11th in Vancouver. Photograph by : Ward Perrin, Vancouver Sun
 
Sophia kitchens will feature granite counters, gas ranges and a GE stainless steel appliance package. Photograph by : Ward Perrin, Vancouver Sun
 
A high-end Kohler fixture package, not among the original finishes, has also now been installed in the homes. Photograph by : Ward Perrin, Vancouver Sun
 
Bathrooms will also have granite countertops, as well as flat-panel cabinets and porcelain tile flooring. Photograph by : Ward Perrin, Vancouver Sun
 

SOPHIA

Project: 81 one-and two-bedroom condos and townhomes in an eight-storey building

Location: 298 E. 11th Ave., Vancouver

Architect: Linda Baker Architect Inc.

Size range: 660 - 1,300 sq. ft.

Phone: 604-453-660

Hours: 1 - 6 p.m., Mon - Thurs; noon - 5 p.m., Sat and Sun

Website: sophialiving.com

Occupancy: October

- - -

First-time homebuyer Kristin Gray considered backing out of her contract to purchase a residence in the upscale Sophia building when the project ran into financial difficulties earlier this year, but ultimately opted not to -- in large part because of where it is.

The 23-year-old had bought her one-bedroom fifth-floor condo in November of 2007, just weeks before the Sophia project fell into receivership after the Eden Group development company halted construction on the project, citing labour costs, municipal strike delays and contractors who had abandoned the job as contributors to some $4 million in cost overruns.

At the time, 77 of the 81 units -- Sophia is comprised of 75 condominiums and six townhomes -- had been purchased in advance sales. When construction resumed, those purchasers were given a choice by the court-appointed receiver: they could either take their deposits and walk away, or they could accept the terms of new agreements that would see them pay 90 per cent of the assessed market value of their homes.

"For a while, I did consider cancelling my presale contract and getting my money back," says Gray, who was instrumental to forming a purchasers' group that assembled to address buyers' joint concerns.

In the end, the university student and accountant opted to stick with her contract -- her price adjustment saw her pay approximately $******* on top of an initial purchase price of about $******* -- primarily because of Sophia's location.

"I bought at Sophia because of location, location, location," says Gray of the building, which is located in the 200 block of East 11th Avenue, just east of a stretch of Main that's become an increasingly popular neighbourhood where funky cafes and designer clothing stores sit next to established antique shops and Chinese eateries.

"I work downtown and go to school at UBC and Sophia is 10 minutes away from both. Plus, the culture -- shops, restaurants, pubs, etcetera -- on Main Street is unbeatable ... I looked at buying downtown, but for a first-time buyer, the amount I would need to spend to get a decently sized unit (over 500 square feet) was just not possible."

Of the initial Sophia purchasers, some 37 did walk away from their contracts, reports Doug Chivers, a representative of the Bowra Group, receiver for Sophia, adding that most of those were investors. But the bulk of early buyers who had bought into the project -- not as investors, but as individuals who intended to make the Sophia units their homes -- stuck with their purchase plans. That doesn't surprise Michael Sikich.

"You're getting a product that's been improved, at a great location, with outstanding views," says Sikich, president of The Agency, which is marketing the remaining homes. "It is such a fabulous product at a fabulous location."

Thirty-three of the homes in the eight-storey Sophia building are still available and selling at approximately $*** a square foot, or about $*** a square foot more than the original asking price, says Chivers.

And that, says Sikich, represents "very, very good value in today's market."

"If people go and shop the neighbourhoods ... we're a couple of hundred dollars [a square foot] cheaper than being downtown," he says. "You look at everything else that's being offered out there, for location, for its finishing level, for its occupancy - now people are going to be able to move in within the next two or three months - this is definitely an advantage to people."

Sophia is located within a quick drive of the downtown core, is situated on major transit corridors, and will offer some stunning city views to residents when they take up residency in the fall, says Sikich.

"I don't think people realize how hot this location is, and particularly the views," he says. "We get outstanding views, basically, from our third floor and up - sweeping views of the mountains and the city; it's quite spectacular.

"We recently had a visitor from Toronto that we're working with to purchase a unit and he was telling us that you just don't get these kinds of views in Toronto. He said: 'I cannot believe how beautiful the view is from this location.'"

The Sophia homes -- all with balconies, all with electric fireplaces, all with gas ranges and granite countertops -- may have the same outlook envisioned by the developer, but there have been some improvements and upgrades. "There were things that needed to be repaired ... to ensure the building was up to a very high standard," reports Chivers, adding that a high-end Kohler fixture package, which was not among the original finishes, has now been installed in the residences.

As well, the Bowra Group has arranged to provide purchasers with homeowner protection through the National Home Warranty's 2-5-10 program, time-limited coverage for everything from defects in materials and labour to the building's structure.

"Also, we have signed up for the ... National Quality Assurance Program," says Chivers. "Prior to turning over a unit to a purchaser, National will complete a unit inspection and will identify any defects or deficiencies to repaired or completed prior to occupancy of unit."

So far, says Sikich, there has been a diversity of buyers, representing everything from young professionals to "older couples that are downsizing."

"We're getting quite a healthy mix of people," he says. "We're actually quite pleased with that, and I think that diversity will continue to help the environment in the building."

Chivers says the presale purchasers who have stuck with their contracts have demonstrated great patience throughout the delays in the building of their new homes, but are now greatly relieved knowing that an occupancy date is in sight.

And the fact that they agreed to pay an additional sum for their homes - that amount would have varied, he says, depending on the size of unit and date of purchase - says much about their confidence in the project and their desire to live here.

"A big part of that was being able to get National Home Warranty involved and on board so that the 2-5-10 warranty is in place," Chivers says. "And you've got a lot of people that do like the building. I mean, this is an attractive location, it's an attractive space, and they're looking for somewhere to live, and this is the place that they want to do it."

As for Kristin Gray, who is now poised to take up residency in her new home -- some nine or 10 months later than she'd originally expected -- the looming moving day is becoming more than a little exciting.

"I am beginning to get excited again," she says. "... Moving into your first new place is a major milestone in life. Even after many months of waiting anxiously, I know that the Sophia is going to be a great place to live."

© The Vancouver Sun 2008

blog comments powered by

Disqus