Great condo and location






Les was very accommodating on early arrival and helpful with just about everything. Clean, accurate condo description, and steps from the beach. Can't wait to visit again!

Ryan K
Wed, Jul 24 – Sat, Jul 27, 2019
---
Perfect






For our first stay in Baja I chose this El Zalate condo for the views and the furnished balcony. The condo was beautiful and we lived on the balcony with its two living spaces and the dining set. The complex is small and for Holy Week nearly deserted. Well equipped kitchen and vigilant security. Will definitely stay again!

Camelia S.Cle Elum, Washington
April 2019
---
A PERFECTO vacation!






This condo is exactly as it appears in VRBO--beautiful, serene views of the water and pool. This condo was perfect for our family. We had everything we needed and loved every minute of it. We'll go back for sure! Thanks Les!

March 16, 2019
---
Totally rejuvenating






Amazing view from.
A meticulously maintained condo. Easy access to stores, restaurants and groceries. Condo is well equipped with everything you could need. Clean, comfortable elegance for a marvelous vacation.

Lynn S.Frisco, Texas
March 16, 2019
---
Perfect Paradise






Perfect for enjoying sunset, sunrise and every moment in between.

Jeanne d.
March 11, 2019
---
Noblesville Indiana






Our stay was fantastic. Les and Sonja are extremely helpful and responsive to our simplest of question. Their condo is modern, clean and top notch in every way. Definitely heading back next year. We've stayed at El Zalate for the last 5 years and this is by far the best condo we stayed at. Thanks Les and Sonja.

Al and Susie from Indiana
February 25, 2019
---
Amazing find for an amazing time






We had a great weekend enjoying Les's condo and the grounds. The beds were so comfortable and the rooms were spacious. The beach was clean and you can walk forever. We enjoyed the pool area and all amenities. I hope to be ble to return again to this dreamy place. Thank you Les for sharing your beautiful home with us

Paula M.Wisconsin
February 19, 2019
---
Gem by the sea!






Beautiful, well maintained property in a great location. Really appreciated the attention to detail. The condo has everything needed to have a relaxing, comfortable vacation. Would definitely recommend staying here!

Sacramento
September 24, 2018
---
Thanks Les and Sonya for sharing your condo






My party had an amazing time and found the accommodations perfect. Everything was provided just like home. We especially loved the huge deck and spent most of our time outside enjoying the view of the pools and ocean. We did some beachside shopping from the vendors who were super friendly and not aggressive. My personal favourite was Eddie at MarArt Jewelry in San Jose Town Centre. Although we ate out almost every night we enjoyed the Sunday brunch at the Tropicana and loved the restaurant and special shop at Jazmin's. It was the most authentic Mexican Restaurant we visited. Your binder was full of recommendations that we found very helpful. Cheers and thanks again

Donna Goring
May 2018
---
Paradise






We just spent two glorious weeks here and loved every minute. (Other than when we had to leave!) We are regulars to the Los Cabos area, but this was our first stay at El Zalate and it did not disappoint! The grounds and pool area are meticulously maintained and the location is very convenient with easy access to everything you need.
The condo is great, very nicely decorated and has the bedrooms separated on each side of the living space for privacy if you are travelling with friends. The patio is amazing and where we spent the majority of our time. You could never get enough of the view or the sound of the surf. The condo is very well equipped with everything you need, the only thing that we missed was margarita glasses. No big deal, actually we planned on picking some up and leaving them as a gift, but never got around to it.
Les and his team were very attentive and gave detailed instructions of everything in the condo and local information. He also called after we settled in to make sure we were comfortable and had everything we needed.
We hope to own in the area someday and can only dream it is somewhere just like this!
Counting the days till we return!

December 2017
---
El Zalate is Mexican for Relaxation






The accommodations are as advertised and more. The pictures fall short of the pure beauty of the unit as well as the property. The depth of the balcony areas is a real bonus and is a great area to chill out, listen to the ocean (150 yards away), and relax. Les was very quick to respond from start to finish and I would highly recommend him and his team to anyone interested in renting at this property.
I must say I cant remember ever seeing workers so happy and proud of what they were doing then here at El Zalate. The guards,gardeners, painters, cleaners, it didn't matter who it was, they had a smile on there face and were extremely pleasant.
The whole property allows you to feel at peace and really get to relax the way vacations are intended.

October 31 2017
---
Amazing at Mona Lisa






Hope this email finds you well. Just an quick email to thank you again for the use of your condo. We had a fabulous time, and much needed rest. Another recommendation you may want to give is a dining experience at Mona Lisa – it was the most amazing dining ever!

Pommashea
Vancouver
October 22 2017
---
Very comfortable and beautiful place






We had a really nice stay, our bed was super comfortable, the room was really beautiful with unbelievable view , and the apartment is very nice. Les was very helpful and organized and everything you needed were well documented and available for you. The area is perfect, very close to everything in walking distance, shops, restaurant , pharmacy , car rental , you name it. Easy access to public transit , just cross the street. What a nice spot! I totally recommend staying there

Kambiz Ansari
October 19 2017
---
The Right Decision






Typically, when traveling we stay at hotels or resorts. However, for our trip to San Jose Del Cabo we thought we'd try HomeAway and stay at a condo. Never renting from a private owner, we booked Suite #402 Villa 4 El Zalate with slight apprehension. Any concerns we had were quickly relieved once we talked with the owners, Les and Sonja. They were very hospitable and offered much information about the condo and surrounding areas. They expressed a genuine interest in our stay and wanted to be certain we were comfortable.

Once we arrived we found the condo to be well appointed beyond our expectations. We wanted or needed nothing at all. The unit was fully stocked (besides personal items/needs), and felt like we were staying at a friend's home. The unit was clean and well cared for. The beds and furniture are all very comfortable. The Kitchen had everything needed to cook family meals including a full-size BBQ. One of the best features is the large balcony that overlooks the pools and beach making a perfect space for morning coffee/breakfast, lunch and dinners. There was plenty of privacy between units and the pools/beach were practically vacant our entire stay (although our stay was during the off season).

The condo is perfectly situated close to restaurants, coffee shops, pharmacy's and many other nearby amenities. There is a very large grocery store within walking distance or very short car ride. Walmart is also a short car ride away as well. Guest will also find a well-thought-out and useful guide-book/directory of San Jose Del Cabo and surrounding area composed by the owners.

My family had a wonderful time in San Jose Del Cabo. The condo was amazing and made the trip complete. We will encourage our family and friends to book the condo if traveling to the area. We certainly will be return customers and look forward to coming back soon.

Chris, Heather, Denali & Austin
Bellingham
August 2017
---
I wanted to send you a quick note to say thank you…






My family had a wonderful time in San Jose Del Cabo. The condo was amazing and made the trip complete. We will definitely provide a stellar review and encourage our family and friends to look up your condo if traveling to the area. My wife and I will certainly be return customers and look forward to coming back next summer (we especially love the warm summer days there
Thank you again for allowing us to enjoy your lovely condo.

CHRIS SMITHSON
Bellingham
August 2017
---
Excellent property with everything you could ask for and more!






Les and Maggie made the booking experience simple and provided many helpful details and suggestions. The property was gorgeous. Beautiful condo with all the amenities. Excellent Wi-Fi/AppleTV/comforts of home. Very safe area with restaurants and activities within walking distance. Loved it!
My only regret is that I trip was not longer! Will definitely be back. Many thanks Les!

Los Angeles
July 6, 2017
---
A Beautiful Vacation Home with a great view and location, and all the comforts of a real home






We stayed at El Zalate for the 2nd part of our Cabo San Jose vacation. Upon entering, it was like the photos, especially the wonderful big balcony. We knew we had exactly what we wanted, when we stepped on the balcony and heard the beautiful sound of the waves. The kitchen had everything I have in my kitchen at home.........and I love to cook. (although I did not here) And the master bath was perfect with the large tub..........loved that every night also! The town of San Jose is a $8. cab ride, but there are several good places to eat closer. At home we have a firmer mattress and pillows, but if you love a "feather-like bed top, and very fluffy pillows, you will love sleeping. (a couple margaritas or wine, and we slept well!)
All in all, we wished we were there longer. We plan on returning to Cabo San Jose in 2 years.

Thank you Les and Sonja
From Georgia & Bob
Chicago, Il.
Stayed the beginning of July, 2017
---
Villa 4 unit 402 El Zalate los Cabos Mexico Paradise on the Sea of Cortes!






We made this unit our home for 42 glorious days in February and March.The 2 bedroom condo is on the 4 th floor with gorgeous views of the sea and the grounds surrounding the pool area.It is well equipped and tastefuly decorated.The onsite management group are fantastic and take care of any questions you may have instantly.Restaurants are close oxo convenient store very close,probably take a taxi to La Comer grocery store,we did but we are beyond the age of walking with grocery bags in our hands for very far.This unit would be great for 2 couples lots of room.

February 2017
---
Dream Vacation






We have enjoyed our stay here. It is close to everything and beach is just next to the building.
The rooms are nice and clean with all the appliances needed. We would definitely come back.

Amy C. March 5, 2017
---
Les you have a wonderful place






We recommend highly Les's place the locations was quite, scenic, anb very comfortable. The amenities were fabulous and cooking facilities were great in a well equipped kitchen. Being there in February made the Whale watching from the large balcony fantastic. It is probably best to have a car as we went to town in about 10 minutes and have 24 hour car security. Would recommend to others

Gloria February 2017
---
Hello Les






Just want to say how nice your El Zalate 402 condo is. The furnishings are so tastefully done; it's well-equipped and well-stocked with all the conveniences to make our stay here totally comfortable; speaking of comfort, the mattresses are absolutely the most comfortable ever! We're observing your instructions about not scooting the chairs so as not to disturb the neighbors. Thank you for providing such lovely accommodations.

Sallie Dean - February 2017
---
This is the place to stay






This is the place to stay in San Jose del Cabo. You have the best of both worlds. If you like to mix it up and go out, everything is super close but if you want a total get away, this complex is clean quiet and very well kept. Here are the highlights…
Any questions, no matter how silly you may think the owner responds immediately.
The location of El Zalte is perfect - 20 minutes from the airport, and close enough to San Jose del Cabo to be able to go out for great meals and shopping.
El Zalate is beautiful - located on the beach with three pools and a hot tub. The grounds are well kept and there is a security guard at the front gate who patrols the grounds so you know you are safe.
This unit is gorgeous…two bedrooms, two bathrooms, living room, kitchen, deck with beautiful views of the ocean, washer/dryer. If you don't want to eat out a lot, the kitchen is well equipped for cooking and the Mega super market is a ten minute walk.
If you don't feel like cooking, there are several restaurants and one right next door - Mama Mia. More on my suggestions on where to eat later.
All the extra perks too - tvs in the living room and bedroom, wifi, balcony with beach views, washer/dryer, chairs for the beach, plenty of bach towels, hair dryers in both bathrooms.
Gym - I used it every day.
Supermarket located in walking distance oh and a Starbucks too.
If you rent a car, you just pull right in and park at the open parking spots right in front of the building…very easy.
Gym with air conditioning is located in the building that has the OXXO store.
So now if you need suggestions on restaurants…
Mama Mia - next door for an easy bite to eat
Cynthia's - located near the Mega and walking distance on the beach…this is a must if you like good tasty healthy yummy food
Flora Farms - a must! beautiful, delicious food in an incredible place…make a reservation
Herb Buena - located in Pescadero near Todos Santos if you are going for a sightseeing day. After you eat there, head to Playa Cerritos - beach you can swim in.
I can't wait to go back!
Date of arrival April 17, 2016
---
We'll be back!






Two couples shared this beautiful condo for ten days. The condo is so comfortable and had all the amenities one could ask for. Nice separation of bedrooms, and the large, well-furnished patio was well used. The view and the closeness of the beach can't be beat! The complex is extremely well-maintained with gorgeous landscaping and beautiful pools and spa. We used the fitness center too, in addition to long walks on the beach. We were curious why additional palapas aren't in the roped off area on the beach itself. We would have used them if offered - sometimes shade was hard to find around the pool. We shopped at the Mega three times and found it walkable and with everything you might need. We used the city bus, taxis, and excursion pick-ups to tour and enjoy. We were glad we weren't driving ourselves. Highly recommend Flora Farms both for farm tour and fabulous food. Yes, it's a little expensive but worth every penny. Loved being in San Jose del Cabo rather than in busy and youth-focused Cabo San Lucas. Check out the art walk on Thursday evenings. Enjoyed picking up tacos at Mama Mias and bringing back to poolside for lunch - it's just a brief walk on the beach and also a great place for Margaritas. We definitely hope to come back sometime soon.
Heltons, Eugene, Oregon - April 1, 2016
---
Fantastic location right on the beach...





El Zalate is a lovely complex - the grounds are meticulously maintained and the gardens are beautiful. The complex sits on the doorstep of Costa Azul beach where you can walk for miles and/or just sit and watch the world go by. The best feature of this condo is its balcony. It is large and nicely furnished - we enjoyed many hours out there watching the sunrise and the whales play. We also enjoyed almost all our meals out there. It is ideally situated to get the early morning sun and then become quite shady later in the day. We rented a jeep to get around as we did not find the roadways to be at all walker friendly. We did not use the bus system but were told by others that it was very good and easy to use. Maybe next time. The Mega store is close by and we were able to buy everything we needed there. Also as a special treat - there is a Fish Lady who visits El Zalate every Friday afternoon - she sells the freshest fish - excellent variety - reasonable prices. We also used the services of Nash Properties cleaning crew to come in weekly to clean the condo because who wants to do housework on vacation? They did a fantastic job and we would highly recommend them. Les and his assistant Maggie were good to deal with. Responsive to our inquiries and quick to provide anything we needed.
We would return to El Zalate in the future.January 31, 2016
---
Relaxing ....

This is a great spot if you want to relax and unwind. Right on the beach, wasn't busy at all so no fighting for beach chairs. We walked everywhere and if you get tired of walking you just grab almost any bus along the road. We stayed in Oct from the 17th to 27th. Next time I would go later in the year so it won't be so hot and humid.
Date of arrival ..... October 17, 2015
---
Viva la Mexico!






Wow, this condo, location on the beach and the quaint town of San Jose was the best place to turn 40. Myself, husband and 10 year old daughter loved our 9 nights/8days a El Zalate. Les the condo owner went above and beyond on every aspect of booking, replying to emails, providing a well stocked condo, comfy beds, and travel info via email at the condo. The info he provides for the area/places to eat/things to see and do is the best I have ever received when renting a condo. I usually research all of that information on my own but Les made it that much easier for me. El Zalate has been super quiet and relaxing and we would totally stay here again. I even have a few friends that enjoyed seeing our pictures and are talking about booking this condo. Surfing: We took surfing lessons from Costa Azul Surf Shop--awesome experience! The staff and instructors were top notch. It was our first time surfing and we all rode waves all the way into shore. :) Snorkeling: We snorkeled at Chileno Bay--brought our own gear from home but Les does have some snorkel gear in the condo. Chileno was great and we saw a ton of fish. We were able to catch the bus right out front of El Zalate to go to Chileno Bay and back. We also went to Playa Santa Maria--the surf was too high to snorkel but the beach is gorgeous. The sand is soft, pink granite. There were a few palapas there for shade too. We took the umbrella that Les has in the condo to Chileno with us--it worked great for some shade. We also used the travel coolers to bring lunch and water to the beach when we were out and about.

Food: Shopped at the Mega twice: 10-15 minute walk from the condo, or you can take the bus. We carried our backpacks with us so carrying the groceries back was easier.

Restaurants: Loved Mama Mia(right next door). Sardina Cantina(right up on the street next to Trader Dick's--fish tacos--YES!) and Las Guacamaya's(Amazing). Feel free to check Trip Advisor Reviews for these places--great reviews. These were our top three places!

We went into downtown San Jose for a shopping day and we ended up taking the Urbano bus(picks up behind the Mega). It's the bus that looks like a school bus and it's the bus that the locals take. It was super fun. All of the busses are inexpensive and easy to use. We took a bus to Cabo for a day too. You can totally rent a car for $25-$30/day but we enjoyed the busses.

AMAZING/WONDERFUL/WARM/WELCOMING! We will miss Mexico!
---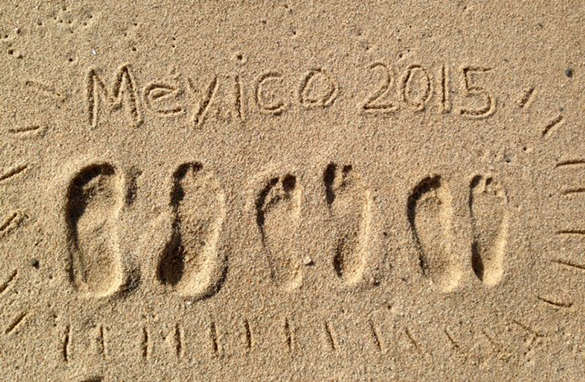 Thanks for an amazing condo in SJD. We did not want to leave today! We have a friend that may book with you for next August!
Melanie Snow
---


March 16, 2015
Paradise Found!
We had traveled to Cabo San Lucas for 23 years. Looking for something a little quieter and more authentic, we decided to try San Jose del Cabo three years ago. We love it. San Jose is the perfect combination of beauty, serenity, and history with all the amenities you could want. For the past two years we have spent time at El Zalate. The complex is beautiful and impeccably maintained. James, the on-site property manager, was readily accessible and a pleasure to work with. Les was professional and the process was seamless. The information packet provided was extremely useful. The condo was nicely furnished and we thoroughly enjoyed watching the sunrise and the whales from the veranda. We didn't rent a car because we discovered the local bus system (Urbano) was readily accessible to go anywhere for a mere 12 pesos (eighty-four cents)!Restaurants we enjoyed were Mama Mia's,(next door), Teo's, La Pesca and Cynthia's. We definitely plan to return and we have recommended it to friends.

Gladys Gillespie - [email protected]
---
March 13, 2015
Very Nice
We are renting this unit for 7 weeks and really have been enjoying it. High end furniture and I was very impressed with how well this unit is stocked with toiletries. Beds are awesome. The outside furniture in this unit is excellent as compared to other units in El Zalate. This was very important to us as we spend lots of our time outside. Les is very responsive to any questions however small the questions may be. We were concerned about coming because of the hurricane but El Zalate looks like it wasn't even touched. It is as beautiful as the last time we were here. I will have to pry my husband from the unit, he loves it. Would stay here again.
Myla
---
July 30, 2014
Oceanfront Luxury
I'm done with the busy party atmosphere of San Lucas, I love how quiet and relaxed San Jose is. This condo is spacious, clean, oceanfront (you can clearly hear the waves all night), the finishes are great and the veranda is incredibly comfortable. I wouldn't hesitate to book with Les, he's a pleasure to work with. You should have a car, but the man at the gate called us taxis when we needed one. With a car we were able to snorkel, paddle board (rental spot BajaWaterMan is right out front), go into San Lucas, go to Flora Farms, and explore San Jose easily. The entire complex probably had 8 occupied units during our stay, it's a wonderful place to stay.
Katie
---
March 9, 2014

We spent 2 fantastic weeks at this condo unit. Everything was exactly as advertised and Les was more than helpful. The condo and property were very well maintained. Will definitely recommend this property to friends and family. We enjoyed a good selection of local restaurants as well as some great meals made at the condo with the fine appliances and all the cooking utensils we needed. We were able to do some whale watching right from our patio. Will be looking into booking another stay at this property for next years vacation.

Perfect Vacation,
Donna Kneller
---
November 13, 2013

Let me first start by saying, location, location, location! What a wonderful stay and time my Wife and I had at your villa #402 at El Zalate. We stayed 10-22-13 / 10-29-13 for our honeymoon, The villa was beautiful, the pools and grounds were very nice and well cared for. Everything was a short walk or cab ride away and the staff (namely Lupe) were all very warm people and extremely helpful. We have stayed at other condos in the Cabo area, but none as impressive as this. Your Villa is as advertised and included everything we needed for our stay. We will be returning (hopefully for our anniversary next year) and we highly recommend your villa to anyone looking for a peaceful and truly relaxing vacation.

Warmest Regards,
The Sherricks
---
November 5, 2013

The condo was exactly as described! Beautifully appointed, spacious outdoor living area w/ comfortable furniture. All furnishings and appliances are top-notch. The owner has paid attention to the details - furnishings, linens, bedding, utensils, etc. The complex is very quiet and the pools and grounds are very well maintained. We will definitely try to rent this condo again in the future. We had a very relaxing and enjoyable stay and were sad to leave. The owner is very responsive to every request and very professional. I would highly recommend this condo.

Jeffrey Pal
---
October 1, 2013

Our week in San Jose del Cabo was fantastic. This unit was well appointed and superbly situated. There was nothing lacking in the supplies and furnishings during our stay. The mattress and bedding were perhaps the most comfortable I have ever slept in, and I have stayed in some high end hotels. I can't remember sleeping so solidly as I had during that week. If you are reading this Les, my husband and I and the other couple would love to know where you purchased both the mattress and bedding. Absolutely no complaints, and would definitely stay again. Loved it!!!

Anita Kingsbury
---
September 23, 2013

This was a great find. The owner has the condo set up in style. All high end appliances and everything you need to make for a great stay. Everything is in top notch condition. It is a great value, and a much better deal than staying at a high end resort. El Zalate is a wonderful compound situated right on the beach and close to a the super markets. The sea is a bit rough, so there aren't a lot of swimmers out there. But the heated pool more than makes up for it.

Cesar A. Jaramillo
---
August 15, 2013

The unit we stayed in was great. It was a much better value than staying in an over-priced resort, especially if you like making your own meals now and then. The property was splendid and rather private. We sometimes felt as if we had the whole pool to ourselves. The owners were always responsive, answering even the most trivial questions asap. The on-site manager even hooked us up with a local boat captain... and my two boys caught the biggest marlin of the day. 5 stars

Nick Johnson
---
What a find! - July 15, 2013

My husband and I stayed at El Zalate for a much needed vacation in June, and we absolutely loved the place. It is beautifully done, with all the amenities you will need to feel at home. The view is fantastic, the pools are big and never crowded, and the balcony is huge! Yes, you will need a car, but you will not have to drive very far to reach lots of cute restaurants and a grocery store. We will definitely be staying there again.

Katherine and Alex Petrovitch
---
Perfect! March 19, 2013

My husband and I visited San Jose del Cabo last year and fell in love with the town, but felt that our stay at an all-inclusive resort was a bit loud, as well as limiting in terms of checking out all the excellent restaurants in the area. We decided to go back again this winter and rent a condo, but we had no idea how lucky we'd be in our selection.

We rented a car, as we had last year, which makes seeing all the sights much more convenient. Parking was available just steps from our unit. We were amazed when we walked in. Everything about this condo is beautiful and in excellent condition, from high-quality linens to the leather couch in the living room. The view is almost unbelievable. We slept with the patio doors open to hear the waves all night... it's an experience I will never forget. The property is quiet, stunningly landscaped, and spectacularly clean. The pools were warm, the hot tub very hot, and there were always plenty of chairs. Each person we encountered was very friendly (both employees and residents). The full kitchen saved us money on breakfasts and lunches, and the washer/dryer saved luggage space since we didn't have to pack much. There is not a single thing that could have been better... I highly recommend a stay at this property.

Amanda Allen-Bauer
---
Another Fantastic Stay - February 4, 2013

This is the second year we have stayed in Les and Sonja's condo and keep coming back because everything is top-notch (and it feels like home). The beds are fabulous, the view from the deck is magnificent and the condo is equipped with everything you will ever need. In the mornings, I can't wait to get up and have my coffee on the deck and look for whales. The show the whales put on this year right in front of the condo was unbelievable. Some as close as 100 meters offshore. Les is very easy to work with and it says a lot when the owner calls to ensure that your stay is perfect. If you want a quiet, relaxing holiday where you can walk the beach for miles and feel totally safe, this is the place for you. We're already counting the days till we return next year.

Mike Sheremata
---
Review #5638343 From VRBO August 21 2012

Nicely finsihed condo is exactly as promised. Stayed for ~2 weeks with 2 young kids and was very satisfied with the condo. It was exactly as advertised and was particularly happy with the high-quality finishes (furniture, bedding) and mechanicals (appliances, showers, A/C). Location is good as it's close to things in San Jose, but a car is needed and the surf at this location is too high for swimming. working with Les is straightforward, from the cost/payment to condo instructions.


---
March 9, 2012

I just wanted you to know we had a great time in the condo and hope we left it okay for the cleaning service.. We drank the coffee that was there but we left beer and new mex.. which is a great drink with tequila! In the frig.. We also dusted and swept once during our stay so I don't think we left it dirty.. The weather was perfect a little cold at night.. needed a little coat but as always the days make up for it!! WE just love going to El Zalate!! Thanks so much for making our trip special with the condo use!!!

Sincerely, Alice Mykel
[email protected]

---
April 8, 2011

While our time is winding down to the end of our PERFECT vacation, I don't think it could be any better, thank-you very much for renting us your great spot. We fly out Sunday at 3:30 PM so I'm not sure if we could get a extra couple of hours for a checkout time of 1:00 PM, please let us know and again thank-you!!!!!!!!

Ted Desireau
Consignorsports

Hi ted - It should be no problem for the few extra hours. I have emailed my property manager of your late departure.
Les
---
August 11, 2010

We just wanted to let you know we thoroughly enjoyed staying at your condo in Cabo. It is beautiful and the location is fabulous. We appreciated the restaurant suggestions and were able to enjoy some of them as well as discovering some little gems of our own. We definitely will be calling you again and hopefully be able to rent from you. Thank you very much for all your thoughtful insight to the area and great service.

Sincerely,

Joan and Jim Milan
---
June 6, 2009

Everything has been fantastic! We love the place, the view, etc. Everything about the condo is luxurious and convenient. The surf has been good all week. We took the kids parasailing in Cabo, went to Shipwrecks on the East Cape, spent a day in Todos Santos and Cerritos, and fully recommend the NEW Sardina Cantina. They re-opened with a new owner about 5 weeks ago and the food is excellent. Our other favorite is Habaneros in San Jose.

We hate to leave :-(

Steve and Deana, Chase and Ty
---
April 2009
Thanks for the use of your condo during our stay. We really enjoy that area of San Jose and found the complex and especially your condo, first class. We enjoyed the deck and found that leaving the door open with the breeze blowing through, we rarely needed to use the AC. The condo facilities; wonderful beds, towels, kitchen and deck were a treat and made us feel right at home.
It was great meeting you and Sonja. Your restaurant recommendations were appreciated with our favourites from our previous visits and your recommendations are still Cynthia's and Morgan's. And, George confirmed that my margarita recipe is the one to use!
I've already sent the link to your condo to many friends and colleagues.
Thanks again and we hope to be able to stay in your condo again!
Elaine & Bob Laing
St. Albert, Alberta
---
March 2009
Dear Les and Sonja,
Our thanks for allowing us to stay at your unit. The amenities were perfect for our holiday. The previous guests were thoughtful and left us some cold Cervesa in the fridge so we had time to sit on the huge balcony overlooking the Sea of Cortez and gaze at the beautiful pools, grounds and beach prior to going to Mega to get supplies. Everything one would require to "make yourself at home" could be found in the unit plus easy access to the Mega store was only minutes away. The close proximity to the ocean almost felt as if the condo shook from the huge waves crashing on the beach - so surreal and relaxing both at the same time. The breaching of whales a half mile out made morning coffee and the Mexican sunrise even more enjoyable.
The laid back attitude of San Jose del Cabo, the seafood and fresh produce vendors outside the condo unit all added to a most memorable stay. We found other El Zalate guests most helpful and friendly in making this an enjoyable and relaxing stay. We really enjoyed the Vonage line and computer to stay connected to family and friends left at home.
Most definitely 402 El Zalate is our place to stay next year!
Wayne & Sal Knutson
---
January 2009

We very much enjoyed our stay at the condo. It's in a great location with easy beach and pool access. What's more, the unit itself is extremely comfortable. The kitchen is very modern with one of the best stoves we've ever cooked on. Seriously, that's some stove!! Overall, we left feeling that our money was well spent--great sunrises, breaching whales, wonderful bird life, easy proximity to a fun art walk in San Jose, and close enough to pull off a fun day trip to Todos Santos. We highly recommend it!
Stephen and Sherri Woolworth
Tacoma, WA
---
Holiday greetings, dear Les and Sonja!

We would like to express our deepest gratitude for letting us use you wonderful place in Cabo for vacation. Everything was great from stable warm weather to all the condo features both common and luxurious we enjoyed during our trip.
We had a chance to explore the local towns, beaches, restaurants and even deep-sea fishing. The set up in the condo was great. It had all the modern necessities and more. Often we did not even want to go to the restaurant feeling content to stay and cook at home. The proximity of the beach was also a huge benefit. The days and nights were quiet just as people who come to vacation from demanding jobs at home desire. The margaritas and vino kept flowing adding to the overall excitement.
Thank you once again for your gracious hospitality. We are looking forward to experience it again in the future and we will definitely recommend the place to our friends.
Warm regards,
Vlad, Julia, Yuriy and Oksana.
---
We had a wonderful time. The condo was first rate, exactly as described, full of helpful amenities. The balcony was fantastic, and we really enjoyed the big waves come rolling in and thunderously crash on the beach. Beds were comfortable, tv full of channels, computer and internet really handy. We preferred being in the quieter San Jose del Cabo where it is less crowded and less touristy than downtown Cabo. The Mega supermarket nearby was great for beach items, breakfast pastries, fresh cookies and fruits, and whatever we needed really. I'd recommend your place to anyone. You were very helpful. You can certainly use this as testimonial if you like, I have no reservation about that at all.

Thanks.

Phil Bowen

---
April 20, 2008
Dear Les & Sonja,
We can't thank you enough for letting us stay at your gorgeous condo in Cabo. The decor & finishings are absolutely beautiful with every possible comfort. We spent hours relaxing on that HUGE deck watching the whales, the waves, horses, sailboats . . . In our opinion El Zalate has one of the best locations along the beach, an easy walk into San Jose yet on one of the nicest, quietest stretches of beach. The grounds are so pretty day or night and are kept up so well. Truly first class. We'll be highly recommending your condo to all our friends and family!

Thank you again for allowing us to share your luxurious home, it was a very appreciated gift.

Kindest regards
Dave & Daphne Parker
---
From: Coco Allen
April 5, 2008

My parents were absolutely THRILLED with the condo they had an amazing stay. Sorry I missed you there, heard you were there the same time. I was soaking up the sun most likely!
Regards,
Coco Allen
---
From: PHILIP BOWEN
March 11, 2008
Just wanted to let you know everything has been fine. We're having a
great time. Weather is fantastic--bright sunny cloudless skies and 75
degrees. Ocean temps are a bit cold for snorkelling for very long, but
fine for playing in the water along the beach. We brought wetsuits.
Condo has been great. You guys have thought of just about everything, I
think! Pools are very nice. The sound of the waves crashing on shore is
incredible--like thunderclaps at times! And watching them from that
super-sized balcony is great fun too! Going ATVing tomorrow. Did see
some whales breaching off Santa Maria beach yesterday. Very nice. Hope
to get over to Cabo Pulmo and maybe Todos Santos. Thanks again for
having us at your condo.
Sincerely,
Phil, Flor, Andy, and Ryan Bowen