Alexander's Restaurant
Downtown Cabo - On the Cabo Marina boardwalk
Phone U.S.A. 01152 (624) 143 2022, while in Cabo 143 2022
Swiss Chef Alex Brulhart has been turning out appealing international cuisine at his Alexander's Restaurant for seven years. The specialty is fondue (cheese, beef and seafood) and the Hang Beef.
In my opinion, this is the best dinner on the Marina - it is a must try!!
Applebees on the 4-lane highway (Across The Street From Coral Baja)
San Jose -

Great food, entrees $10-15. 2 blocks from El Zalate going toward the airport.
Small strip mall also contains Scotia Bank and Office Max.
Buzzards Bay Cantina
624.141.0098 Cantina
858.427.3636 US Line
www.buzzardsbaycantina.com
BUZZARDS BAY CANTINA is the GO TO PLACE in Buena Vista for incredible food, awesome drinks, music, and friendly atmosphere.
Cabo Del Sol - KM#10 on the highway.
There are no signs to the resort until you get too close to the turnoff which most likely will be too late. Once you get to the turn off without missing it, after taking the turnoff, turn left at the top of the hill, go over the over pass, go straight down to the bottom of the hill, turn right at the end of the road, then go 500 meters and turn right at the club de gold club house, then you have arrived – Awesome resort!!!, you must do this!! Sunday Brunch
145-6300 Ext. 2160 Best Brunch in Cabo - $45/person - reservations call one day before ask for Felix Delu 624-191-0077 (Cell)
Cabo Del Sol Development
Casa Natalia Hotel "Mi Cocina" Restaurant in San Jose
Open concept restaurant with tall palm trees. Great food and vary expensive.
624-146-7100
www.casanatalia.com
[email protected]
Read The Review in the Gringo Gazette
Lugareno Cocina Restaurant - Villa Valentina Plaza - 624-142-6612 * Click Here For Pictures and Write-up
Cynthia's Restaurant - (Behind Mega Grocery Store)
KM 30 at Plaza Caracol, San José del Cabo
044.624.155.5874 (Local Call Cell)
011.521.624.155.5874 (Calling from Canada or U.S. Cell)
Mexican food with a fresh twist. Open for lunch & dinner. Moderate to expensive.
[email protected]
El Chilar
Downtown area, on Juarez just west of the Telmex tower. Excellent Mexican continental cuisine. Moderate.
Don Sanchez Cantina Restaurante
(San Jose del Cabo Downtown)
Blvd. Mijares s/n Edificio Eclipse, San Jose del Cabo, Mexico
624-142-2444
Comments; We wanted to have a nice dinner off the resort and decided to head into Don Sanchez. I am so glad we did, it was awesome! I wanted some authentic Mexican food and I got it here. I really liked the fun atmosphere in there, very relaxed and great service. Drinks are so good as well. Be prepared to eat!...
Flora Farms
(San Jose del Cabo)
Flora Farm is a ten-acre organic farm in the foothills of the Sierra de la Laguna Mountains in San Jose del Cabo, Mexico. Floras Field kitchen is about handmade food using our farm fresh ingredients. Our goal is to create a healthy family meal with a sense of place.
For farm living & Tours Ana Rojo, For events and celebrations Erika Kroll, For their website www.flora-farms.com.
The sausage sandwich is really good and the fresh cinnamon buns are the best in Cabo To get there go Puarto Los Cabos on the way to Buzzards – when you reach a cement factory on your right side, take a left on the dirt road for about 1 KM & follow the signs – Its like an oasis. They are also selling detached homes on the farm & have a small gallery - this is a must stop. Click Here For Map And Directions
French Riviera Bakery & Cafe
(San Jose del Cabo)
Baja California Sur 23400, Mexico 142-3380 / 142-3351 [email protected] www.frenchrivieraloscabos.com/bakerylocations.htm If you are looking for the best crepes in San Jose - this is it. Our favorite are Strawberry Crepes. They also have great breakfasts and a wide assortment of pastries. They have the best cinnamon buns in Cabo. All made on site - you can view the bakers do their thing right in front of you. They have 2 locations - one at KM 6.5 & one in San Jose. We always go to San Jose, never tried the other location. Please also note that they ad 15% tip to every bill.
Habaneros
San Jose - next to HSBC, Dominos, bakery & coinamatic. In the Bital plaza in front of Laguna Vista Condos. Lunch and dinner with a Mexican bistro flair. Moderate.
Blvd. Mijares s/n. Plaza Misiones
+(624) 142-2626
See Website For Reservations
Hilton Hotel Brunch - Everyday - on the strip
On the four lane highway approx KM #19.5 - Tourist Corridor (See map below)
Hilton Los Cabos Beach & Golf Resort
Carretera Transp. Km. 19.5, San Jose del Cabo, Mexico 23447 Tel: 52-624-145-6500 Fax: 52-624-145-6530 4 Diamond Hotel, has a really great brunch daily from 7AM. The cost is about $25 per person. We recommend you sit outside - great view of the infinity pools & ocean beyond. Check out the dinner menu at the restaurant below
La Dolce *****
San Jose - Downtown San Jose across from the main church
Good pasta and pizzas. Reasonable prices. The people are very nice, too. Phone Number 142-6621 in San Jose. They have 2 locations - other location in San Jose del Cabo 143-4122. When visiting the San Jose location, you must check out the back open courtyard part of the restaurant, just by walking by & looking at the front section does not give it justice. www.loscabosguide.com/dining/la-dolce-san-jose.htm Owners name is Juan.
La Panga
On Zaragoza across from the cathedral. Nice seafood.
Mama Mia** Next door at Coral Baja Resort On The Beach
San Jose 142-3939
Great Breakfasts for $5, great club houses & BLT's for $5, 1 minute walk from the condo, different theme nights with music every night, dinners are OK, check it out. Dinners are marginal -& would not recommend
One & Only Palmilla - San Jose Del Cabo - "The one & only Lounge"
On the four Lane Strip Tourist Corridor (See map below)
Location: Km. 26 carretera Transpeninsular SJC - CSL, San José del Cabo, B.C.S. Mexico CP 23400 Phone: (624) 146-7000; Fax: (624) 146-7001
Five Star Luxury Hotel
Los Cabos Hotel Guide
You must make reservations to go to the restaurant or the bar at 624 146-7000; We call this hotel "The Once & Only" It is a must try venue but very expensive. I glass of wine will set you back $20. We never come down for dinner but come down only drinks usually around 5 PM to watch the sun go down & the gas torches go up. The bar & restaurant overlooks the pools & has spectacular views of the rocks & surf. Upon arriving through the windy road - you will pass through a check point, just tell them that you are going to the bar for drinks & have a reservation. You will then be greeted by a Valet to park your car. Then walk through the Hotel down to the restaurant/bar. They have nightly jaz music. Tips are included with the drink cost.
Pueblo Bonito Sunset Sunday Brunch******
Cabo San Lucas - on the Pacific side of Cabo behind Pedigral
If you want to experience the best Sunday Brunch in the world, this is a must try. The cost is $40US per person, you have to phone one day in advance for reservations. It is located on the Pacific side of Cabo – about 30 min drive from the condo. Phone number 142-9941 from the room - Ask for Lanow Restaurant
www.pueblobonitosunsetbeach.com/ The restaurant is called Lenau. When driving to the resort going up the hill of the windy road you have to take a left turn when you see sign "Ritz Carlton" or "Pablo Bonito Sunset". (there are 2 separate signs)
Location of the Publo Bonito Sunset Hotel inclucing driving instructions
Sardina Cantina - Seafood Bar & Grill - San Jose del Cabo
On the Four Lane in front of Coral Baja Resort
624.172.6365
Restaurant Menu
e-mail: [email protected]
www.sardinacantina.com
Sunset Da Mona Lisa *****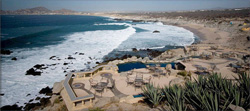 Sunset at Mona Lisa (Italian) - KM#6 Outside Cabo San Lucas
This is a must see & do restaurant that is on many multi levels overlooking the arches. You must get there not later than 5 PM to get good seats
www.sunsetmonalisa.com/
Sunset Da Mona Lisa additional pictures

Our unique location on the tip of the bay of Cabo San Lucas has breath-taking views of the ocean and the arch. Join us for Sunset cocktails and class Seafood Italian style culinary experience.
Sunset Da Mona Lisa is located on the opposite side of the bay and overlooks the magnificent arch that divides the Pacific Ocean from the Sea of Cortes.
This place is a landmark for the city of Cabo San Lucas. Enjoy sunset drinks on the terrace facing the sea, a romantic candlelight dinner for two or a magnificent event. You will feel that any occasion here at Sunset Da Mona Lisa is a unique experience. We look forward serving you fresh Seafood Italian style in Cabo San Lucas
Events RSVP Online: Event Booking Inquiry
Events RSVP email: [email protected]
Make Dining Reservations by Phone or Online:
Dining RSVP Line 1: + 52 624 145 81 60
Dining RSVP Line 2: + 52 624 145 81 66
Address: Sunset da Mona Lisa, Transpeninsular 6KM, Missiones Del Cabo, Cabo San Lucas, B.C.S. 23410
Tequila
Downtown, one-half block up Manual Doblado from Mijares (near city hall). Beautiful courtyard restaurant with excellent food. Reservations recommended (2 11 55). Expensive.
Thadashi
In the clubhouse of the Mayan Palace Golf Course. International cuisine with an oriental flair. Moderate to Expensive.
Tropicana**** Inn
Downtown San Jose on Mijares Boulevard, about one block south of the fountain. Good bar, good restaurant, cute hotel. Moderately expensive, lots of food. One of our favourites. A must go to place. Phone #142-2311, make reservation & sit out side on the patio http://www.tropicanacabo.com/
Tulip Tree
Downtown San Jose, opposite the city hall and fountains. Newly renovated with roof garden (Shooters). Good food. Moderate prices.
Zaragoza between Guerrero and Morelos Los Cabos, Baja California Sur, Mexico. (624) 142-6619 (Rest.) (624) 142-0831 (Fax), [email protected], www.labodegadesanjose.com (One block from plaza Mijares), Downtown San Jose del Cabo At la bodega steak and wine house, our menu offers assorted appetizers for one person or to share, featuring high quality meats, fresh seafood, a variety of salads, and soup of the day. Entrees highlight the Certified Angus beef cuts, pork porterhouse steak, tender chicken breast and catch of the day.
La bodega evolved after several years of living in San Jose del Cabo and realizing the need for the Mexican contemporary dining. With unique architecture and cozy lighting, dine in our air-conditioned dining room or on the patio under a marvelous wild fig tree surrounding by relaxing music. La bodega features a great selection of domestic and imported liquors and a temperature-controlled wine cellar, offering wines from North and South America, Mexico, France, Spain and Italy.
Stepping into La Bodega (the warehouse) feels like entering a loft even though it's located on street level. Showing off modern interior lines of the air-conditioned dining room, it expands out to a cozy outdoor patio shaded with a canopy of an old tree. With the neat line of wooden tables faced by a long bar on the inside and the romantic setting outside, La Bodega is a sleek yet comfortable dinner spot for any occasion.
List Compliments of Les Twarog RE/MAX Crest Realty, www.6717000.com
Zippers Beachfront Restaurant
San Jose - 3 blocks walk on the beach to the left of El Zalate (Looking at El Zalate from the beach)
Location Km 28.5 on Transpeninsular Hwy., In Playa Costa Azul, just south of San José (624) 172-6162

If a cheeseburger in paradise is your mission, Zipper's is the real deal. Located along the Corridor near San José del Cabo, surfers downing icy Pacíficos and fresh shrimp ceviche merge with fishermen bolting Sauza and fried-fish tacos. However, the not-so-humble cheeseburger is the star of Zipper's gringo-fabulous menu. Service is slow, so pass the time watching pelicans swoop the swells, catching rays in board shorts and bikinis, and blissing out to the Jimmy Buffet-laced Radio Margaritaville, which is Zipper's 24/7 soundtrack. You won't find dance contests and jet-ski vendors here; located beneath a beachfront palapa that faces a surf break of the same name, Zipper's is a stripped-down sensory experience that rivals even the swankiest Los Cabos restaurant -- at a slightly lesser price tag.

Price Range: Burgers and sandwiches $7-$10; main courses $7-$18
Open Hours: Daily 11am-11pm

Hotel next door - www.cabosurfhotel.com/ - Cabo Surf Hotel is located in one of the top surfing beaches in Los Cabos. Enjoy the long rides, the ideal spot for long boarders. The property is on the tourist corridor highway just 8 minutes from downtown San Jose del Cabo

---
List Compliments of Les Twarog RE/MAX Crest Realty, www.6717000.com