The Los Cabos real estate market is in the midst of a boom and not so surprisingly. With beautiful, warm, sunny days, miles of secluded beaches, world class fishing and golf, fabulous restaurants, shopping and entertainment all within 4 to 6 hours or less from anywhere in the U.S. or Canada. Recently such fine resort hotels as the Sheraton Hacienda del Mar, Fiesta Americana, Hilton, Marquis Los Cabos and Royal Solaris are among some of the newest developments to appear in Los Cabos. The airport is also experiencing the same boom as the real estate market with the addition of direct flights from Chicago, Atlanta and New York/New Jersey via Newark International.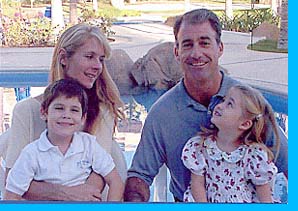 Never before has it been easier and safer for foreigners to purchase real estate in Mexico. With the intriduction of U.S. Mortgage Companies now offering long term, fixed rate financing with as little as 20% - 30% down and unprecedented investment protection by US. Title Insurance Companies such as Chicago Title, Fidelity First American and Lawyers Title Insurance help make your vacation or retirement home both affordable and secure.
Our real estate company, Baja Properties, is celebrating its 15th anniversary with over 20 knowledgeable and professional agents. You can find in five convenient office locations throughout the three resort towns of Cabo San Lucas, San Jose del Cabo and Los Barrilles. We cover over 150 miles of coastline with the largest inventory on listings from homes, condominiums, lots, ranches and commercial opportunities.
We home you enjoy your stay here in beautiful Los Cabos and should the Baja Bug bite, give us a call or stop by any one of our offices for a tour of available properties.


www.bajaproperties.com

WHAT IS FRACTIONAL OR
CO-OWNERSHIP OF REAL ESTATE
by John Vering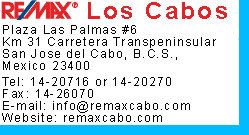 One of the most important emerging trends in resort real estate is a concept called co-ownership. This idea is rapidly growing in popularity as an alternative to full ownership of vacation homes.
"Actually, the fractional idea is not really that new. For decades, homeowners have split ownership and use of second homes to lessen the costs of infrequently used vacation homes. Today, that notion has been upgraded to include all sorts of amenities, services and management benefits for those who have more leisure time and a preference for luxury.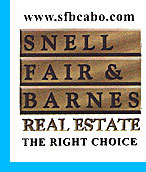 According to recent research, the most successful co-ownership
products are located in areas where real estate is in high demand.
Originally initiated in the ski resorts of the Rockies, these projects are now spreading to destinations which include golf and beach resorts.
In Los Cabos there are a few fractional ownerships. Villa La
Estancia is a good example of this concept. It's the only condominium project located on the beach in Cabo San Lucas and offers an exceptional coownership package. Owners have an independent one fourth interest of a whole beautifully appointed Villa.
Reservations are based on an annual rotation system which ensures
that owners can receive a one month period each winter, spring and summer season.
A valid concern is how you actually buy something like this in Mexico? What usually happens is the Owners are deeded beneficiaries of a trust (a Fideicomiso) inscribed in the Public Registry. The property can be inherited or sold for full market value at anytime and lasts 50 years. It can be renewed indefinitely.
Investment in high end reputable projects like Villa La Estancia is as secure as it would be in any property in the U.S. VLE is insured by Fidelity National Title, the largest Title Company in the U.S with assets of nearly $1 billion.
The fractional projects in Los Cabos are truly of the luxury variety, and located on stunning properties. For instance Villa La Estancia, is an exclusive retreat of 158 Villas. The spacious two and three bedroom designs, overlook the internationally known landmark of El Arco at Land's End, on Playa Medano. From the spacious terraces and verandas to well planned, underground parking each detail is efficiently addressed. Co-ownership and full ownership opportunities are available in most of the projects, and some people are buying whole villas then selling
"time" to their family and friends. The largest projects all come with the services of a five Star resort. Prices range from $100-350,000 USD with 10 year financing available.
TOP
REAL ESTATE TIPS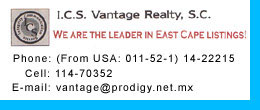 Mexico is an exciting and very desirable place to live for those who are retiring, are working from home on a computer link with their company, are looking for a vacation home or an outstanding investment... above all, for those who dream of a better quality of life!
Home... the word represents security and comfort for the majority. All too often the word, when used in conjunction with a purchase of property in Mexico creates stress, worry and, at times has been associated with financial loss. This needn't be the case. Procedures in searching titles and transferring property are similar to those of the United States and Canada
RULE NUMBER ONE:

SELECT THE COMMUNITY AND THE COMPANY THAT FITS YOU:
First select the general area where you think you'd like to live. The agent you select to represent you in your Mexican property purchase should be a member of AMPI and have certification from PROFECO, the Mexican consumer protection agency. The AMPI member is required to operate under a higher standard of care, and to adhere to a strict code of ethics.

RULE NUMBER TWO:

EXAMINE THE NEIGHBORHOOD
What will it look like in ten years? Are highways or other development projects planned for the future? Where are schools, churches, shopping facilities? Are there homeowner fees for maintenance of common areas? If so, how much are they and when are they paid? Are all the utilities in and paid for? What does the developer have left to do? What building restrictions are there?

RULE NUMBER THREE:

BUDGET FOR YOUR PURCHASE, CHECK TITLE AND UNDERSTAND THE MEXICAN BANK TRUST (FIDEICOMISO)
CLOSING COSTS:
Closing Costs will range from 4% to 30% (yes, 30%') of the total cost of your property. The higher the price of the property, the lower the % of total closing costs. Costs include title search, transfer taxes, bank fees, government permits and notary fees.
CHECK THE TITLE:
Does your seller have a registered title to the property? Title insurance, now available for many Mexican properties, is a good investment.
UNDERSTAND THE MEXICAN TRUST - FIDEICOMISO
If you are a foreign person purchasing property in many parts of Mexico, includiag the entire Baja peninsula, the property will transfer not to your name but to the name of a Mexican bank as trustee for your interests. The Mexican constitution prohibits direct ownership of real property by foreigners in the "prohibited zone", a strip of land thirty miles wide along its seacoasts and sixty miles wide along its borders with the United States and Guatemala/Belize, as well as the entire Baja peninsula. This is the reason for the bank trust, the "fideicomiso", which has been established under the guidelines of the Mexican government so that foreigners may be protected in their property acquisitions.

Whether you are purchasing in a zone requiring a bank trust or in an area where title can be taken directly into your name, it is necessary that this transfer take place and your interest registered as soon as possible after the successful conclusion of the negotiations to purchase your dream property. Until this transfer takes place you are vulnerable; the seller may die, the heirs may be unwilling to recognize your rights in the property, you may become involved in a lengthy and expensive probate proceeding. Meanwhile, your interest may not be recognized by the authorities should you wish to obtain a building permit, by the bank should you wish to borrow money and use the property as collateral or as part of your assets; by the courts should a third party also claim an interest in the land, or, should you later decide to sell it.

The prudent buyer of real estate in the United States or Canada
would not consider leaving his title "in limbo" in those two countries; one should not do so in Mexico either.

RULE NUMBER FOUR:

INVESTIGATE THE STATUS OF THE CONDOMINIUM REGIME
The unit, or lot must be legally described and an individual property tax number issued. This individual property must be registered in both the Property Tax Office and in the Public Registry of Property. Until this is completed, legal title to an individual unit or lot cannot be granted since there is nothing to describe.

RULE NUMBER FIVE:

INSIST UPON RECEIVING A REGISTERED TITLE
Unless the deed (fideicomiso) for the rights of the beneficiary has been recorded, there may not be a remedy for the purchaser who neglected to obtain a registered deed... his interest, his investment, may be lost.
TOP
Owning Property In Mexico
by Linda Neil
The bank Trust for ownership of Real Property in Mexico.
Article 27 of the Constitution of the Republic of Mexico prohibits foreign ownership of real property within thirty miles of any coastline or sixty miles, of either border. This is referred to as the prohibited or restricted zone. In 1973, recognizing that many foreigners would enjoy owning property in Mexico, and would bring needed dollars to the country through such ownership. President Echeverria approved the bank trust, fideicomiso, from of ownership, which is available to non-Mexicans. This law governing ownership under a bank trust was further expanded in the Foreign Investment Laws of 1989 and 1993. Properties located within the prohibited, or restricted, zone which includes the entire Baja Peninsula, may be acquired by a foreigner through a Mexican bank trust, which designates the buyer of the property as the beneficiary of the trust. Legal title is placed in the name of the bank selected by the buyer as his trustee. The bank administrates the property in accordance with the instructions of the buyer/beneficiary. The buyer/beneficiary enjoys the same rights of ownership as does a Mexican national. He may build on the property, tear down existing buildings, modify them, rent, lease or sell at anytime conforming only to the general laws of the country established for all persons.
The term of the trust is fifty years and it can be renewed for additional fifty-year period. In other words, title to the property may rest in one beneficiary indefinitely, provided that it is renewed within the terms established by the law.
The procedure for establishing the fideicomiso, the bank trust, is as follows: 1. Application is made to the Secretary of Foreign Relations for the permit to establish the trust. 2. Upon receipt of the permit, the trustee bank send instructions to the notary public for preparation of the deed to the beneficial rights. 3. Applicable taxes are paid and
4. The deed is recorded in the municipality where the property is located. The cost for the permit to establish the bank trust is currently less than $1000 U.S. dlls. Annual bank administration fees generally range from $300 to $400 US Dlls. Additional closing cost such as an official appraisal, notary fees, certificates, registration costs, must be paid, however, to obtain a registered deed in buyer's name. It is wise to request a written estimate prior to beginning the transfer process.
TOP
Time Share in Los Cabos
What exactly is a time-share anyway? It's the purchase of the right to use a luxurious condominium for a week or multiple weeks. During the time that you have purchased, you may use the condominium, rent it or exchange it for the use of another similar time-share property in a completely different vacation destination.
Time share is a wonderful product for those who intend to use if for what it is. In Los Cabos Time share is hugely popular. It's a great way to guarantee your family a quality vacation every year. It's a marvelous way to have family gatherings in luxurious settings throughout the world. Enjoy Cabo one year and ski Vail, the next for example. It has also become an excellent source for business travelers to have access to the amenities offered in their timeshare resorts during non-use time. Own a house in Los Cabos? Why not a timeshare too? Trade your weeks to somewhere else, save them for visitors and enjoy the amenities of the resort throughout the year. Many timeshare resorts offer discounted nightly rental rates for their owners and families as well.
Here in Los Cabos we are fortunate enough to have fabulous time-share resorts offering wonderful amenity packages. Like the Club Regina at the Westin, piesta Americana, Sheraton Hacienda del Mar, Pueblo Bonito, Villas del Palmar, Melia Los Cabos and others.
All of the friendly and courteous individuals positioned throughout the resort in their booths who will gladly answer your questions and offer free rent a car, fishing trips, breakfasts, etc. all want one thing... for you to visit the resorts they represent. And you should if you have a genuine interest in having a time-share. Keep in mind, however, that time share is not an investment such as equity in a real property rather it is a use product, a luxury. Resale value is often half.
Owning Property in Mexico Requires Special IRS Forms
If you own a home or other real property located close to the coast in Mexico, the Mexican constitution requires that you hold title through a fidiecomiso. A fidiecomiso is a trust with an authorized Mexican bank acting as trustee, and you, the true owner, are named as the beneficiary. The trust has a term of 50 years and can be renewed thereafter. Under US income tax law this trust meets the requirement of a "foreign trust" and therefore you must file a United States form 3520 when you initially set up your trust, and form 3520A each year thereafter.
The 3520 must be filed at the same time as your US tax return (including extensions) for the year that the trust is initially set up and to report later transactions.
Some of the items in this 6 page form are:
The name and address of the trustee and beneficiaries The value of property and money transpired to the trust during the year Distributions from the trust Copies of trust documents etc.
If you fail to file form 3520, there is a penalty charged equal to 3% of the value of the property transgferred to the trust, or of the unreported distribution. These penalties can be waived for reasonable cause which has not been defined.
You must also file Form 3520A each year therafter. It is due on March 15th (unless the trust is on a fiscal year), but you can apply for an extension. It is filed by the trustee but often is actually filed by the beneficiaries since many foreign trestees do not wish to file the form. It reports among other thins the trust's income, expenses, balance sheet, and distributions to beneficiaries. This form must still be filed even if the trust has no income or expenses to report.
The US owners/beneficiaries are subject to a 5% of gross asset value penalty for failing to file this form. Penalties can be waived for "reasonable cause" which again is not defined.
Our experience has indicated that many individuals who own real property through a fidiecomiso did not file these forms and did not know they were required to. It points out the need for tax return preparation by professionals who know U.S. expatriate tax laws. Both of these forms must also be filed if you form or are the beneficiary any other type of offshore trust, or an offshore asset protection trust anywhere in the world.
If you are purchasing your Los Cabos property by contract, and still have not acquired full legal title by transferring it to a fidecomisom neither one of these forms will be required until you do.
If you are a US citizen who owns stock in a Mexican corporation which operates your business or holds title to a commercial real property, there is another IRS form you are required to file annually with your U.S. income tax returns.