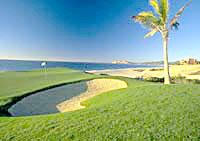 There are 5 beautiful golf courses along the coast between Cabo San Lucas and San Jose del Cabo. They are Cabo San Lucas Country Club (closest to Cabo San Lucas,) Cabo del Sol, Cabo Real, El Dorado and the Palmilla Course (closest to San Jose del Cabo). All have beautiful views of the Sea of Cortez and surrounding mountains. All rates include green fee, club service, shared cart, range privileges, bottled water and taxes. A maximum of 4 players per starting time is allowable.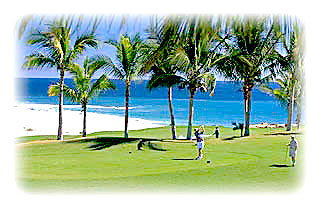 Golf Courses and Pricing:
Cabo San Lucas Country Club
A Dye-designed golf course featuring some of the most spectacular Pacific Ocean views seen anywhere. This challenging championship course features Dye's characteristic waste bunkers and seven sparkling lakes. Playing areas were built into the natural terrain fairways and greens flow into a desertscape of palo blancos, torote trees and cardon cacti. The seventh tee box is the longest golf hole in Mexico - #7 610 yards par 5 double dog leg around a lake.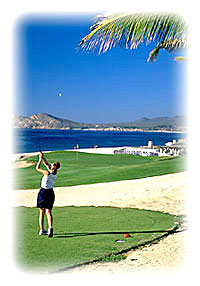 Prices:
1/22/01- 5/31/01
All Week: $176.00
6/1/01 - 10/15/01
All Week: $121.00
Twilight (after 4 pm): $77.00
Cabo del Sol
A spectacular Jack Nicklaus resort and residential complex with four ocean front holes. The front nine has incredible scenic views of the ocean and surrounding mountains. Rolling greens with strategically placed bunkers on narrow terrain that works its way up to the 6th tee, 460 feet above sea level. The 15th, 158 yards, par 3, plays parallel to the Sea of Cortez and will "test" players of every level.
Prices:
1/1/01 - 6/13/01
Sun - Wed: $251.00
Thurs - Sat: $273.00
6/14/01 - 10/17/01
Sun - Wed: $160.00
Thurs - Sat: $165.00
Cabo Real Resort
With two spectacular seaside holes, and three magnificent mountain holes as its signature, Cabo Real Golf Resort promises to be the centerpiece of Los Cabos resort golf. It is situated midway along the coastal corridor, halfway between San Jose and Cabo San Lucas at the Melia Cabo Real Hotel. Designed and built by the Robert Trent Jones team - who enjoy international acclaim for their championship resort layouts around the world - the Cabo Real Golf Resort features an 18 hole course to provide a varietal challenge for golf enthusiasts.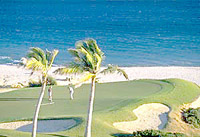 Prices:
1/1/01 - 6/14/01
All Week: $190.00
6/15/01 - 10/14/01
All Week: $125.00
Twilight (after 2 pm): $85.00
El Dorado
New Nicklaus designed course in Cabo Real. Featuring a challenging layout with six oceanfront holes on the Sea of Cortez and the remaining twelve holes carved out in 2 pristine canyons with beautiful trees, cactus and rock formations.
Prices:
1/1/01 - 6/14/01
All Week: $225.00
6/15/01 - 10/14/01
All Week: $150.00
Twilight (after 2 pm): $100.00
Palmilla
The first Jack Nicklaus signature course in Mexico is at home on the lush 900 acres of the oceanfront Palmilla. Nature has provided the unique setting for this breathtaking championship course with desert, ocean, and mountain views. The jewel of this project is the world renown Hotel Palmilla. A small, boutique oceanfront resort that blends luxurious comfort and personal service with old world charm.
Prices:
4/1/01 - 5/31/01
All Week: $176.00
6/1/01 - 9/30/01
All Week: $132.00
***Tee times need to be arranged 10 business days prior to your arrival in Los Cabos.***
***Palmilla and Cabo del Sol rates are not applicable to guests of the Palmilla Hotel.***
***Advance golf tee times are confirmed as an accommodation and
include a service charge.***
Note: Golf reservations are non-commissionable.
Call or write for up-to-date information, specials, and pricing:
Golf Cabo San Lucas
1840 41st Ave Suite 205, Capitola, CA 95010
800-PIK-CABO (800-745-2226)
Phone (831) 475-4800
Fax (831) 475-4890
Email [email protected]
Here are some good tips to play golf on the cheap In Cabo & San Jose;
East Cape - Puerto Las Cabos 18 hole course- $70-$80 incl drinks & food - http://www.puertoloscabos.com/ or http://www.golfcabosanlucas.com/index.asp?PID=8 at 146-9656 (local) or 011-52-624-146-9656 (from US or Canada) at least it was like that in early Nov - this is a new golf course - they are trying to attract new players to their new development.
Pamilla - Phone # 144-5250 (local) 011-52-624-144-5250 (From US or Canada) http://www.oneandonlyresorts.com/flash.html has a twilight rate after 3 PM for $80 - give them a call.
If you want to put a bid to use some of the golf courses in Cabo & San Jose below try going to www.ezlinks.com : Your home for EZ tee time reservations worldwide, just put in a bid.