Buying 'the fundamentals' in Coquitlam
Claudia Kwan
Sun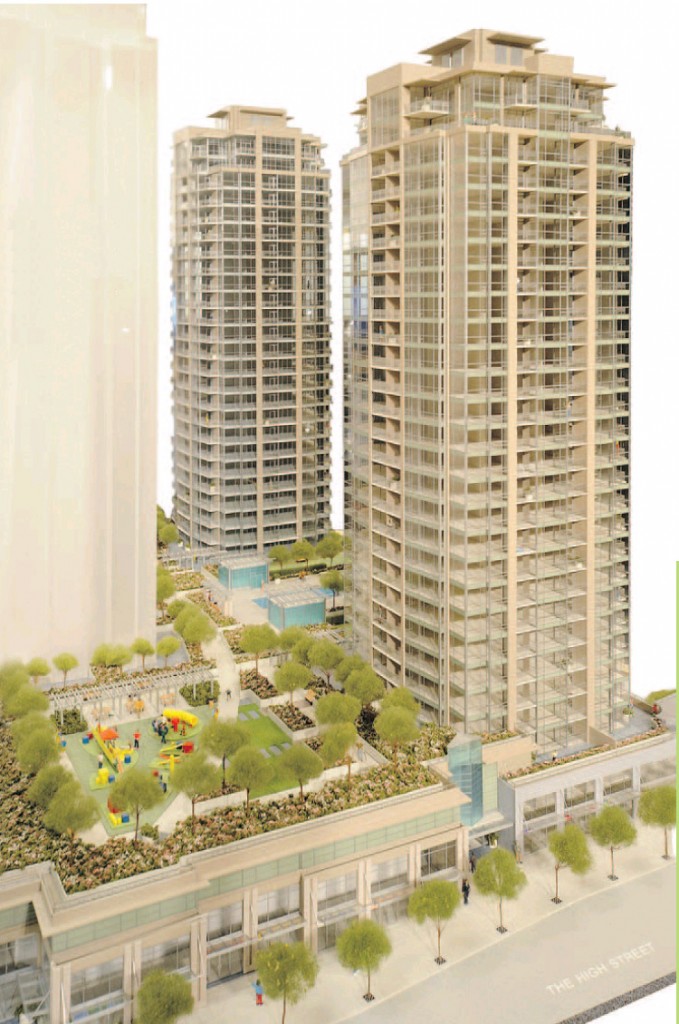 Grand Central 2Project location: Glen Drive and Johnson St, Coquitlam Centre
Grand Central is a three-tower proposition. The Tower 1 homes are occupied. The developer has scheduled Tower 2 occupancy for 2012 and Tower 3 for 2014. Eventual amenities will include a children's playground, an outdoor swimming pool with changing rooms and a gym.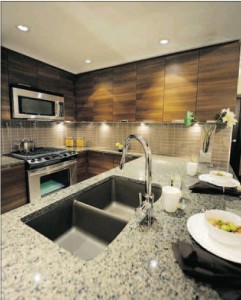 Appliances clad in stainless steel, counters topped with marble, backsplashes faced with glass mosaic tile, and cabinetry doors in high gloss white, or walnut, are among the material requisites of urban-apartment residency. They look great in a suburban apartment, too, and, bonus, without the closer-to-thecentre house prices. ' The prices are so good!' one real estate agent commented during a visit to the Grand Central 2 sales centre. PHOTOS BY RIC ERNST/ PNG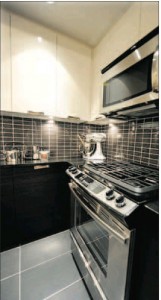 Project size: 32-storey tower, 195 residences
Residence size: 1 bed 631 sq. ft.; 1 bed + den 640– 669 sq. ft.; 2 bed 842– 867 sq. ft.; penthouses 1,103– 1,581 sq. ft.
Prices: 1 bed, from $239,000; 1 bed + den, from $255,000; 2 bed, from $329,000; penthouses from $629,000
Sales centre: 2929 Atlantic Avenue
Hours: noon -5 p.m. Sat — Thu
Telephone: 604-936-1888
Web: grandcentralnow.com
Developer: Intergulf Development Group
Architect: IBI Group
Interior design: Cristina Oberti Interior Design
Occupancy: Summer/Fall 2012
The real estate agents who attended a recent agents' open house at Coquitlam's Grand Central 2 got more than a sneak peek at the coming/ forthcoming tower — they also got a preview of Bob Rennie's speech to be given later this month to the Urban Development Institute.
"I'm Mr. Positive, it's always easy to put a positive spin on something, but when you look at the fundamentals — the actual numbers — you'll see developers coming back into the market and an upswing in construction prices, anywhere from $15 to $50 a square foot," Rennie said.
He also believes the market is poised to have a shortage of new housing inventory by 2012, the same year Grand Central 2 is scheduled to complete construction. He's basing his theory on past history.
"After the dot.combust and 9/11, developers ran away and there was a shortage of housing supply for years. That's what drove prices up, " Rennie says. "Well, with this recession, developers ran away too. In fact we told people to get out if they hadn't already broken ground. So we're going to see that same shortage of inventory."
The problem, Rennie says, lies not with any true instability in market conditions; rather, it's with a lack of confidence within the real estate industry, from both purchasers and providers of housing.
He believes the faltering now will lead to future problems — but also opportunity.
As Rennie sees it, the influx of foreign investors into downtown Vancouver — and continuing upward climb in prices there — will ultimately mean downtown becoming an exclusive neighbourhood for the rich. Locals who want to still live an urban lifestyle with easy access to transit, restaurants, and shopping will be pushed out to the suburbs. His underlying message? Buy now. That's where projects like Grand Central 2 come in.
As the name indicates, it's the second of three proposed towers at a site literally a stone's throw from the Coquitlam Centre shopping mall. It's so close, the easiest way to get to the Grand Central sales centre is through the mall's parking lot. Construction on Tower One finished in July 2009; Tower Three is slated to be ready around spring of 2014.
In addition to retail and grocery stores, the project's proximity to Coquitlam Centre also means easy access to bus routes and the West Coast Express. It's a half-hour ride to downtown Vancouver, and eventually, the future Evergreen line is scheduled to provide a rapid transit commute.
So far, Rennie says interest in the project has been coming from empty nesters and first time home buyers, particularly since 86 of the 195 homes available are priced below $300,000. That's factoring in a rebate on the Harmonized Sales Tax, which is expected to come into effect July 1. Maintenance fees work out to about 25 cents per square foot, which is a fraction of what property tax and upkeep would be on a single family residence.
Cristina Oberti Interior Design has done a number of other condo projects both downtown and in other suburbs; there's no shortage of urban style here, with the requisite stainless steel appliances, granite countertops, and glass mosaic tile backsplashes. Cabinetry comes in high gloss white or walnut. The granite countertops make a reappearance in the bathrooms, along with soaker tubs and undermount sinks.
The amenities include a children`s playground, a top of the line gym, and the Grand Central lounge and bar with multimedia equipment. There's also an outdoor swimming pool open during certain times of the year, with his and her outdoor change rooms.
Bottom line, according to Rennie? Those with a "wait and see" attitude to buying, will see prices come back up sharply if they wait too long.
As they nibbled on fruit kebabs of strawberry, watermelon, cantaloupe and pineapple, falafel mini burgers, and grilled vegetable and cheese panini, the audience nodded and listened attentively — but it's hard to imagine a tougher crowd for a speech about real estate trends than a room full of real estate agents. So did the sell work on them?
Malek Karim of Sutton Centre Realty says she will likely bring two clients after sales officially begin today. "The prices are so good!' she exclaims with a smile. 'They (the clients) have been looking for something in Coquitlam, and this is a good fit, especially for downsizers and first time buyers."
Although having the Rennie name attached to condo projects and Rennie's words may have weight with some,
VAN00998871_1_1
real estate agent David Li, also of Sutton Centre Realty, says he doesn't feel the same way.
"Rennie does a lot of marketing in downtown Vancouver, but he doesn't really do much in Coquitlam," Li points out. "It's more about this specific building, whether it's a good fit. At the end of the day, the product has to sell itself on location and price."
Still, he will likely get more information for a client who is looking for a one-bedroom apartment in the area. So, the sell may have worked.
A few more prognostications from Rennie: he's not worried about either the HST or the fact that members of the public may soon be able to start listing their homes for sale on the MLS, without the aid of a real estate agent.
"Even if the recall petition (led by Bill Vander Zalm and the Fight HST group) is successful, it could take years to settle the legal battle," says Rennie.
"We're going to have to deal with the HST. As long as it affects everyone, it becomes a market force that everyone has to deal with."
He does expect to see demand for previously occupied homes, which are not subject to GST or HST, to rise slightly. The current gap between new and used is about five per cent; he expects that to change to between nine and 12 per cent.
Finally, Rennie doesn't believe competition from the "for sale by owner" sector to have a really big impact on real estate agents; he says once people realize the level of legal and other complications involved in the sale of a home, they'll be more than happy to leave it in the hands of trained professionals.
But then, as Rennie cheerfully admits, his job is to find a silver lining in everything. Whether or not you buy it is up to you.
© Copyright (c) The Vancouver Sun